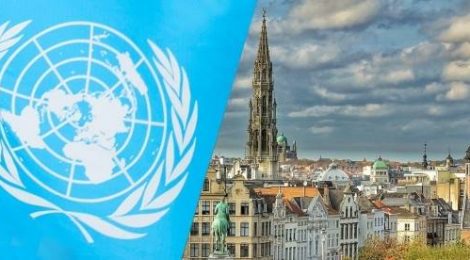 UN Day Flanders, 21 October 2019
It is with pleasure that the United Nations Association Flanders Belgium (VVN) and CIFAL Flanders | UNITAR invite you to the United Nations Day Flanders.
We will reflect on the progress made on the Sustainable Development Goals in Flanders and on the challenges of the United Nations for the upcoming years. But also celebrate the 74th anniversary of the United Nations and the start of UN week.
On the programme
13:30 A coffee networking event and Marketplace
Information and promotional stands of UN agencies and related organisations
15:00 6 workshops
1. Agenda 2030 and the implementation of the SDGs in Flanders
Peter Wollaert, UNITAR Fellow & Managing Director CIFAL Flanders
Katrien Moens, Manager Duurzaam Ondernemen Voka
Nancy Matthys, Flemish Government Cabinet Chancellery (TBC)
2. Toolbox Business and Human Rights
Liliana Lizarazo Rodriguez, Professor UAntwerpen/Associate researcher IPIS Research
Alexander Lemmens, Het Facilitair Bedrijf  (TBC)
3. Education for Sustainable Development
Bea Merckx, Expert Education for Sustainable Development Artevelde

Flore De Pauw, UN Youth Delegate Flemish Youth Council
4. 100 years ILO – Achievements and roadmap for the Future of Work
Lieve Verboven, Director International Labour Organisation (ILO)
Eddy Laurijssen, expert on international labour issues
5. The role of Flanders in nuclear disarmament
Diederik Cops, Flemish Peace Institute
Tom Sauer, University of Antwerp
Ludo De Brabander, 

Representative

 Vrede vzw
6. Food security: resilience to climate change
James Okoth, Deputy FAO Representative Malawi FAO Malawi
Nikolas Bosscher, Deputy General Representative of the Government of Flanders: Development Cooperation (TBC)
16:30 High-Level Colloquium
The first European Sustainable Development Report: keynote by Guillaume Lafortune, writer of the report and Manager SDG Index UN Sustainable Development Solutions Network
Keynote Chairman, Flemish Government
Keynote Minister-President, Flemish Government
High Level Panel: Belgium in the UN Security Council

Bénédicte Frankinet, Former Permanent Representative of Belgium to the United Nations
Werner Bauwens, Deputy Director General Belgium in the UN Security Council (TBC)
United Nations Development Programme (UNDP)

Musical intermezzo
19:00 Networking drink & food with Belgian flavour
Practical information
Date & timings: Monday 21 October 2019, 13:30-20:00
Venue: Flemish Parliament, Leuvenseweg 86 – in the city centre of Brussels
Language: English
Free event but registration is required and before Wednesday 16 October!
This UN Day Flanders is possible with the support of: