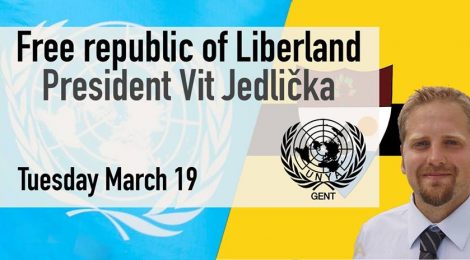 Microstate Liberland: lecture by president vít jedlička (UNYA Ghent)
UNYA Ghent kindly invite you on Tuesday 19 March 2019 to a lecture on 'The free republic of Liberland' by president Vít Jedlička.
The Free republic of Liberland is a libertarian microstate of 7 square km between Croatia and Serbia. It was proclaimed by Vít Jedlička in 2015, but has not been recognized as a state by any UN member.
On Tuesday 19 March they have the pleasure to welcome president Jedlička of Liberland who will give at the University of Ghent a lecture explaining his intentions and political philosophy, as well as the concept of 'state'. How is a state born and can anyone proclaim a nation on a free piece of land?
Come and find out all you've ever wanted to know about this mysterious state, get to ask all your questions and meet a president in real life!
Facebook event: Microstate Liberland: lecture by president vít jedlička