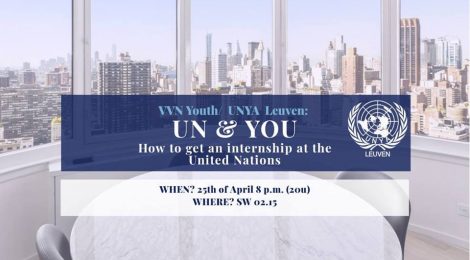 UN & You: an internship at the UN (UNYA Leuven)
UNYA Leuven kindly invite you on Thursday 25 April to their UN & You event on internship possibilities at the United Nations.
Miruna Bouros, UNYA Flanders Alumni Member and former UN intern will come to Leuven to provide our members and students with tips and tricks on how to get an internship at the UN!
Miruna worked as trainee at the Belgian Permanent Representation to the UN in Geneva, focusing on the UN Human Rights Council, as well as at UNESCO in Paris, some 5 years ago. As leader of the Model UN team at the VUB (VUBMUN), she always enjoyed helping her peers achieve their international ambitions, by encouraging engagement and participation in international conferences, projects and traineeship programmes, and by drawing on her own extensive international experience. Throughout her early career Miruna has lived, worked and studied in various places including France, Switzerland and South Korea. Now she's back in Brussels and working for the Irish Embassy to Belgium, while continuing her 'mentoring' work together with WIIS Brussels (Women in International Security).
The lecture will take place from 20.00 until 23.00 in room SW 02.15 of the Faculty of Social Sciences of the KU Leuven.
UNYA Leuven is looking forward to welcome you at their UN & You event!
Facebook Event: UN & You: an internship at the UN