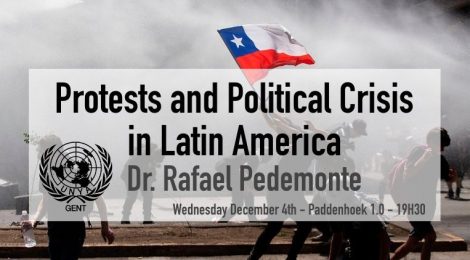 Protests and Political Crisis in Latin America (UNYA Gent)
Bolivia, Chili, Nicaragua, Venezuela, Ecuador… They've all recently been in the news. People are taking to the streets to protest the current regimes. In some places the protests led to riots and police violence. Several protesters have been killed, injured or detained. President Evo Morales of Bolivia has resigned ad taken asylum in Mexico. But why is all of this happening? What exactly is going on?
Dr. Rafael Pedemonte, Chilean historian with a broad expertise on politics in Latin America, will come and clear up these questions for UNYA Gent on the 4th of December at the University of Ghent from 19:30 until 22:00.
As usual, there will be a small (free) reception following the event.
Facebook Event: Protest and Political Crisis in Latin America (UNYA Gent